A life in pictures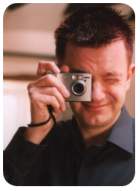 Perhaps in fifty or a hundred years' time, people will look at these photos with the same curiosity as we do those of Victorian times: a brief glimpse of how life was, strange people, strange fashions or strange activities that were banned by the Thought Police sometime in the very near future. The photos are from various sources, from scans of varying quality through to a couple of gorgeous Pentax digital SLRs - the *ist D and the K10D. They're simply a documentary of a meaningless existence.
Even though most of these photos are snapshots of little or no commercial use, occasionally requests have been made to use one-or-two of them, so with that in mind, they are hereby licensed under the spirit of the Creative Commons License. Full-size versions available upon request - see foot of page for details. For any other information, or if you can provide "who's who" or "what's where" info on any of the older stuff, please contact photos at nosher dot net.
Latest

Full-sized, original versions of these images are available upon request. Filenames starting dcp* (Kodak DC3800) are 1792x1184, those starting img_* (Canon A75) are 2048x1536 and those starting imgp* (Pentax *ist D) are 3008x2008 or 2400x1600.